Retirement Planning goes beyond accumulating wealth
With over 40 years of experience in the financial services industry, Golden Eagle Financial, Ltd. helps clients protect their assets and create a growing income for future needs and a healthy retirement. Our approach to planning and ongoing analysis ensures that a custom-tailored plan fits each client's unique circumstances and goals.
18 Holes to Retirement by Al Smith
This book shares a revealing conversation between two coworkers discussing retirement over a game of golf. This handy guide/resource is full of practical information that is easy to understand and applicable. It contains extremely valuable information for anyone near or in retirement. It uncovers information not typically discussed in order to educate and prepare for the final stage of life. The author's intent is for the reader to gain the necessary knowledge to enter into life's last adventure without fear… but with confidence and satisfaction… finding joy and fulfillment along the way.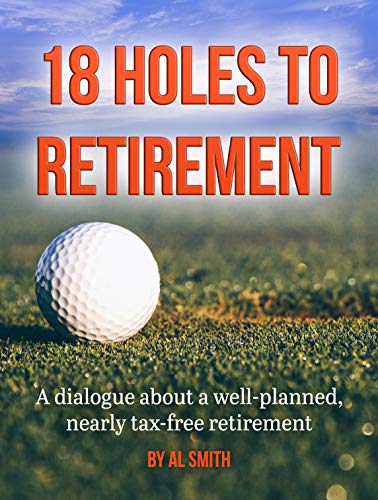 Chartered Financial Consultant
Al lives in Littleton, CO. He graduated from Southern Illinois University with a degree in Journalism. Al has three grown children and six grandchildren. Skiing and cycling are activities he enjoys when time permits. He is an elder in his local church. His work takes him all over the Front Range, eastern plains, and mountains. He has been working as a financial advisor for over thirty years. His years of experience have led to a wealth of knowledge in retirement planning. During the last fifteen years, he has specialized in retirement planning due to the need.
As a Chartered Financial Consultant and Investment Advisor Representative, Al is a fiduciary dedicated to helping people understand their options in retirement. In addition to conducting workshops, conferences, and luncheons to help educate people in financial areas, he speaks to service clubs and community organizations about memory improvement and non-financial practices proven to contribute to a happy, healthy retirement.
His work with his clients involves careful listening and information gathering which are both very important, given the rapidly changing financial environment which may affect each person's situation differently. The work he does involves protection of assets from catastrophic illness, reducing income and estate taxes where possible and wealth accumulation strategies which incorporate both good returns and safety. This work enables clients to achieve peace of mind despite the uncertain times in which we live.
Al's low-key approach has made it easy for people to work with him. His goal with everyone is to establish a long-term relationship based on trust and confidence. There is never any fee involved in an initial consultation to answer questions about estate or retirement planning.
His experience is also in helping many others financially prepare as they make the transition from work to retirement.
Al teaches classes for the people in between college and retirement on good spending habits, how to budget assets and strategically take necessary steps towards financial independence. Al has been providing financial education to people for over thirty years through his dinners, workshops and more recently, his radio show on KLZ 560 AM.  Your registration for this class a includes one-hour consultation to discuss areas specific to you and your family.
Investment advisory services offered through Brookstone Capital Management, LLC (BCM), a registered investment advisor. BCM and Golden Eagle Financial, Ltd. are independent of each other. Insurance products and services are not offered through BCM but are offered and sold through individually licensed and appointed agents.